Drawing on the lessons from economic development in China and elsewhere, this research reveals that smallholder farmers have a vital role in Pakistan's future. Detailed economic and market analysis has underpinned extensive consultation with provincial and national policymakers. The result is a robust policy framework, complete with detailed advice on how to implement an integrated approach to transform smallholder agriculture.
Legacy research
ADP/2010/091 Enabling agricultural policies for benefitting smallholders in dairy, citrus and mango industries in Pakistan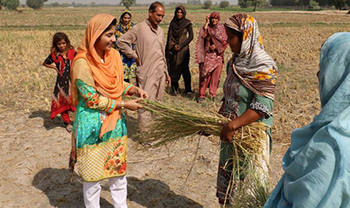 This project analysed the challenges faced by smallholder agriculture in Pakistan, studied the experiences of other countries, and recommended the policies needed to transform the sector. It concludes that Pakistan has the potential to become a substantial exporter—of dairy, citrus and mango products, for instance—to the rapidly growing countries within Pakistan's region. Moreover, smallholder farmers could play a key role in this expansion, according to the evidence presented.
The research team rejected the view that smallholders cannot compete in modern agricultural markets and therefore should exit from agriculture. In contrast, they find that smallholder agriculture can be very efficient in labour intensive subsectors like dairy and horticulture. Plus, through cooperatives, contract farming and producer organisations, small farmers can "act big", gaining economies of scale and entry to modern supply chains.
To explore the drivers and barriers to such a transformation of the smallholder sector, the project investigated several key aspects. The report provides a succinct and readable chapter on each of these.
Taken together these provide a blueprint for achieving the potential of Pakistan's smallholder sector.