ACIAR and its partners are building on previous achievements from projects on fruit (citrus and mango). The current focus on vegetable crops (onion, tomato, potato and fresh chilli).
Vegetables are a major source of household income and nutrition for many smallholders with less than 5 acres of land.
Crops such as rice and wheat provide important calories and nutrients for families. However, vegetables and fruit help balance family diets as well as providing an important source of income.
Strengthening Vegetable Value Chains in Pakistan (SVVCP) project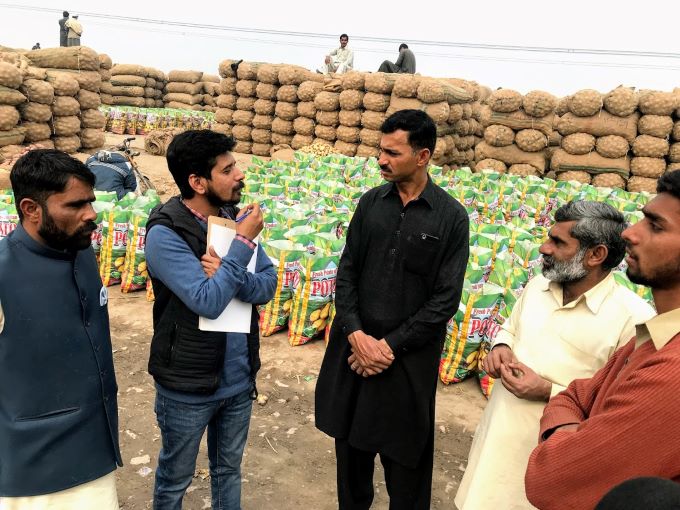 The SVVCP project is working with small-scale vegetable farmers, particularly women and youth, to build sustainable livelihoods through strong value chains. The program includes onions, potatoes, tomatoes and fresh chillies.
Project objectives
Identify opportunities for increasing community engagement and developing rural entrepreneurism
Establish sustainable production and marketing opportunities for small scale vegetable farmers and traders
Test and develop technical innovations for selected vegetables value chains
Expand improvements in vegetable value chains, and sustain and maximise any community benefits
The SVVCP team is drawn from many collaborating partners, with expertise ranging from social science, economics and marketing to production, postharvest and processing technology.
CABI was commissioned by ACIAR as the lead agency for SVVCP. The key partner agency in Australia is the University of Queensland. In order to cover the wide scope of the project, numerous other agencies are partnering to bring specialist technical and community development skills required to achieve project outcomes.
In order for these end-of-project outcomes to achieve sustainable impacts over the medium to long term, other partnerships are also essential. Key players from the government, commercial and NGO sectors have ongoing relationships with smallholders on a vast scale, Therefore, they are well-placed to sustain and extend the SVVCP outcomes into the future.
Partners in contract
Centre for Agriculture and Bioscience International
Main Partner
The University of Queensland, Australia
Partners – Research
National Agriculture and Research Centre (NARC)
University of Agriculture, Faisalabad (UAF)
Sindh Agriculture University, (SAU) Tandojam
Agriculture Research Institute, (ARI) Tandojam
Partners – Extension/Value Chain
Department of Agriculture Extension (DAE), Punjab
Department of Agriculture Extension (DAE) Sindh
Women Agriculture Development Organisation (WADO)
Collaborators
Value Chain Technical Assistance Team (VCTAT) / Establishment of Model Farms (EMF) Government of Punjab
Better Cotton Initiative (BCI)
Engro Foundation
Contact:  [email protected]