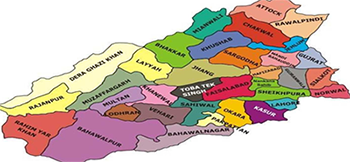 When policymakers are focused on improving the social and economic well-being of smallholder farmers, they have many options available. For example, improved training and education; access to electronic media services; access to finance; farming technology; supply chain efficiencies could all be influenced by government investments or reforms.
Sound data and analysis, based on the 'real world' experiences of small farmers, can help in selecting the most effective policy levers. This comprehensive survey of 850 smallholders has laid a foundation of understanding for policymakers to draw on.
Legacy research 
It is important from a policy point of view for decision-makers to understand the nature and degree of the factors impeding agricultural productivity. This evidence should lead to better policy design and more effective interventions to lift agricultural productivity levels within Pakistan
This Small Research Activity (SRA) was designed to answer the overall questions:
"What is preventing smallholders from improve their productivity and profitability through innovative farming practices and better marketing strategies?"
"How could changes in policy help overcome these constraints?"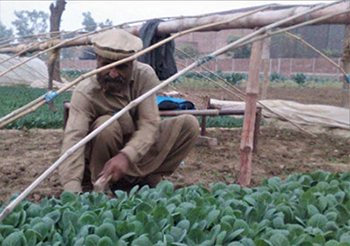 Many different factors are involved, related to technology, marketing options institutions (such as donors and government) and the capacity of individual farmers. Each has their own set of questions. Therefore, a large dataset was required to enable valid conclusions to be drawn. The research team surveyed 850 farmers growing several crop types across four regions of the Punjab.
A comprehensive survey instrument was developed based on the University of Cambridge's survey on small business growth. This instrument was developed by the Cambridge University Centre for Business Research and is widely regarded as a benchmark survey for gathering information on small businesses. This was combined with focus group interviews to investigate the reasons for the wide disparity in farm productivity, helping to ensure that interventions are aligned with problems.
Analysis of this data showed that the most effective policy levers for improving farm productivity and profitability are as follows:
Improved farming practices create significant gains in productivity, which should be facilitated by training and education programs.
Value adding practices such as grading and marketing can be encouraged and enabled through the formation of farmer's cooperatives.
Credit schemes need to be designed to be appropriate for the needs of farmers. The credit application system should be easy to understand and the cost of credit not too high.
Public-private partnerships can be used to provide this type of finance to smallholders.
Traditional extension services are not effective and many farmers are now using electronic media and contact with successful farmers to improve their knowledge base. It is recommended that a pilot project using SMS, TV and radio be initiated to provide farming information and direct farmers to demonstration sites or 'lead adopter' farmers.
Policy initiatives and cost controls are needed to reduce input costs in rural areas, which may also help to improve the input supply chains and thus increase farmers' profitability
The Final Report provides more background and explanation of these recommendations (see below).
ACIAR supported a project to further investigate the findings about Credit Policy.