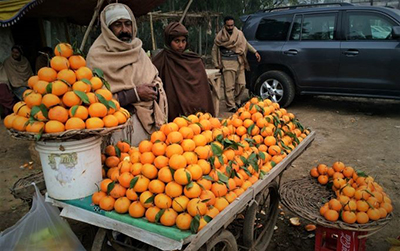 Citrus is one of Pakistan's most significant horticultural crops, comprising about one-third of Pakistan's fruit production. The flavourful, but seedy, mandarin variety 'Kinnow' dominates production. From 2006-2015, Australia supported a broad program of research to assess new varieties, improve nursery practices and improve fruit production and quality. This created a rich legacy to support future development, through local research capability, high-health germplasm systems and "best practice" information for farmers.
Background
Pakistan is about the 13th-largest citrus producer globally with production steady over the past decade at 2 to 2.4 million tonnes annually from 200,000 hectares. This compares with consistent global growth of 3% annually to almost 150m tonnes. After a decade of static exports at about 200,000 tonnes (10% of production), recent years have seen a doubling of this figure. Exporters have faced challenges, with key markets such as Russia and Iran opening and closing, as well as opportunities with Indonesia, Philippines and China markets opening in recent times.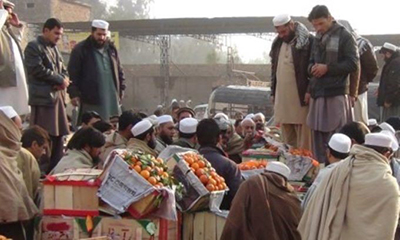 Citrus production has been centred on the Sargodha region of Punjab, with about half the crop area and production. The predominant fruit type is the mandarin variety "Kinnow". This is well-suited to the local growing conditions and produces richly-flavoured fruit which is locally prized for fresh eating and juicing. However, its high seed content renders Kinnow unsaleable or of low value in many markets. In KPK, the main citrus type is Blood Orange which is in demand globally but exportable volumes are lacking.
In the early 2000's, it was apparent that low prices at farm gate were a disincentive to invest in managing production problems. This in turn restricted the volume of export-quality citrus produced. By failing to manage diseases such as canker and greening or pests such as fruit fly and scale farmers were producing blemished fruit. Production and quality was also affected by inadequate pruning and poor fertiliser and irrigation practices. This situation was driven in part by the traditional practice of farmers "handing over" crop management to harvest contractors who buy the crop in advance.
Legacy research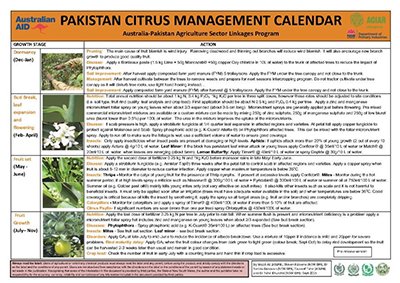 Together with mangoes, citrus fruits are Pakistan's most important horticultural crops for both domestic consumption and export. However, the citrus sector has faced many technical and marketing challenges. At the request of the Government of Pakistan, Australia's Department of Foreign Affairs and Trade (DFAT) partnered with ACIAR in 2005 to address these issues. This project ran within the Agriculture Sector Linkages Program (ASLP) for two phases, concluding in 2016.
In order to address the over-reliance on Kinnow, the project introduced, multiplied and tested seven alternative citrus varieties and rootstocks. This included establishing insect-proof screenhouses to maintain the disease-free status of the mother plants. Variety testing is a long-term process, so the project partners nurtured the local expertise necessary to maintain and evaluate these variety trials. Healthy germplasm has been the foundation of the Australian citrus industry for many decades and this extends to the methods used by nurseries to grow the trees. A nursery manual and videos were produced to supplement the extensive training provided to nursery businesses and staff, including females in KPK who run small "home nurseries". Farmers were shown how to "rework" existing trees using budwood from the new varieties.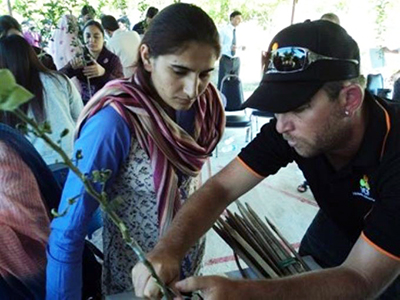 On-farm demonstration cluster sites exposed farmers to "best practice" production methods including pest and disease management, pruning, irrigation and fertiliser use, as well as harvesting practices. There was close liaison with government extension programs through staff training as well as hosting multiple large field days and Farmer Field Schools reached 4450 growers in Punjab and 1850 in KPK. This information remains relevant and valuable and is available through a series of training packages listed in the Resources section below.
While the primary focus was on improving productivity and quality, the project team also recognised the need for improved value chain efficiencies. This included a "Quality Payments" pilot, as an alternative to the standard practice of forward-selling the crop to contractors. In grower trials, "best practices" resulted in fruit of higher grade than the estimate at time of contract. This provided a win-win, meeting market preferences and delivering premiums to the growers. A Citrus Value Chain scoping study was also conducted to identify options for future focus on value chain improvement in the Pakistani citrus industry
See Resources section below for reports and training packages arising from this project.