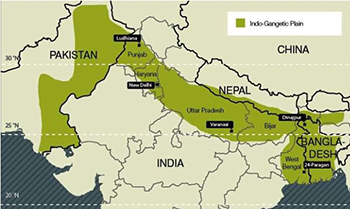 ACIAR makes a difference by bringing together different perspectives to provide fresh insights. Integrating research in irrigation management, engineering and agronomy led to breakthroughs in managing the rice-wheat cropping system. Similarly, research on nitrogen-fixing Rhizobium is hugely important, not only in pulses and the other crops in rotation, but also in leguminous fodder crops. This research, summarised below, is covered in more detail elsewhere on the website.
Rice-wheat & maize-wheat production systems: research on Raised Beds and Direct Drilling
Much of Pakistan's most productive cropland lies at the western edge of the IndoGangetic Plain (IGP), south Asia's foodbasket for millenia. While soils, climate, crops and farming methods vary from west to east, many of the challenges are similar.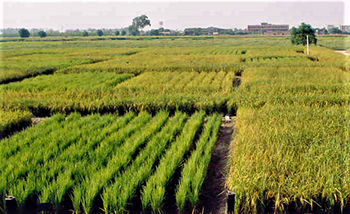 The most popular cropping system in South Asia—practised on about 13.5 million hectares across the Indo-Gangetic alluvial plain—is a monsoonal rice crop quickly followed by wheat. Emerging from the "Green Revolution", this system has massively increased food supply in south Asia. In Pakistan, wheat is grown in different cropping systems, such as; cotton - wheat, rice - wheat, sugarcane - wheat, maize - wheat, legume – wheat and fallow – wheat (PARC).
However, aspects of these systems are unsustainable. Over two decades, ACIAR has forged major R4D partnerships with both Pakistan and India to address this, providing important examples of adaptive and multi-disciplinary research.
The many projects on these topics created a strong foundation of knowledge that is still being applied by development programs today.
Direct Drilling of wheat into unburned rice stubble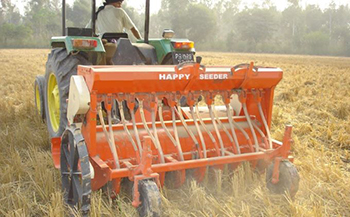 With tight intervals between harvesting their rice and sowing the next wheat crop, farmers have managed high stubble loads through the practice of burning. This leads to widespread and dangerous levels of air pollution. The Happy Seeder (HS) avoids this by enabling direct drilling of wheat into standing rice stubble. This locally-adapted Zero-Till technology emerged from ACIAR research addressing unsustainable aspects  of the rice-wheat cropping system of the Indo-Gangetic Plains (IGP).
Several ACIAR projects partnered with local institutions and manufacturers to fine tune HS design and manufacturing. The Agricultural Engineering team at PARC have been instrumental in this ongoing research.
With local manufacturing and research expertise now established, the Happy Seeder is now firmly in the commercial adoption phase. This continues to be supported by government and donor development agencies, as well as CIMMYT, who are part-funded by ACIAR.
Zero-till is a key Conservation Agriculture technology across the vast IGP rice-wheat production region as well as in other cropping systems, yet ZT faces major challenges to adoption. These barriers were highlighted in an important 2017 SDIP report, which recommended a Regional Collaboration approach involving country representation from Pakistan, Nepal, India and Bangladesh.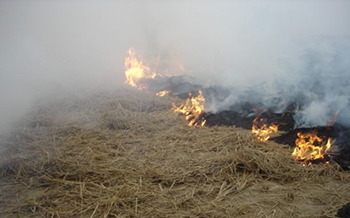 The benefits from raised beds include irrigation water savings, improved soil structure from reduced compaction, less waterlogging and improved horizontal infiltration of water. Raised beds have been successfully adopted in many regions but permanent raised beds had not been trialled in the Western Gangetic Plains prior to this work. Permanent raised beds reduce the number of machinery passes, fuel costs and greenhouse gas emissions. They can also greatly reduce the turnaround time between crops – a vital factor in the short window for sowing wheat after the rice harvest.
Trials of permanent raised beds for rice–wheat, maize–wheat, soybean–wheat and other rice-based cropping systems were undertaken in Pakistan, India and NSW with additional funding from Australian grain growers. This work also involved the development of bed-forming machines suitable for local use and manufacture.
Much of this knowledge has been documented in 'Permanent beds and rice residue management for rice–wheat systems in the Indo-Gangetic Plain', the proceedings of a workshop organised by the project team at Ludhiana in September 2006.
In addition, the 2014 ACIAR Adoption Study describes the benefits of this research, but also highlights the reasons for many farmers abandoning PRB – primarily due to inadequate machinery and/or extension support.
Rhizobium Research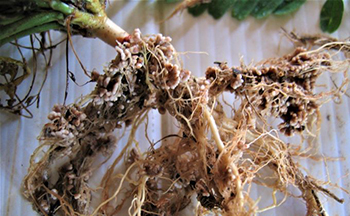 Using legumes/pulses rather than mineral fertiliser to supply nitrogen is low-cost, environmentally benign and can provide high returns to farmers and the community. To optimise these benefits, the performance of the Rhizobium bacteria in the root nodules is crucial. ACIAR funded, between 1984 and 2001, 13 projects related to nitrogen-fixation in farming systems. This work involved many countries, including nine years work in Pakistan.
An ACIAR Adoption study in 2006 looked in detail at the work in Pakistan.
This noted that the projects had created a significant legacy of high-level expertise. This included quantifying N2-fixation in legume crops and quality assurance of procedures in collaborating laboratory and field programs through training, properly documented protocols and cross checking. Six workshop manuals were produced, along with many scientific publications
In 2006, a review of ACIAR's broader Rhizobium research noted the ongoing need for such technical skills on the supply side of inoculant production and use, whereas demand was considered to be largely the product of market forces and government policy.