This 2010-2015 project made a significant impact on the people living in six focal villages, where Community Service Centres were built by the villagers. This "place-based" approach addressed community demand for information and training on farming as well as for broader skillsets.  These created opportunities, especially for women and girls. Like all ACIAR's work, this was a research project – in this case, comparing "place-based" with "industry-based" approaches to engage and respond to community needs. As the first ACIAR Pakistan project of this nature, its results guided later projects. The lessons learned and the tools created by the project team are increasingly relevant in the race to empower smallholder families.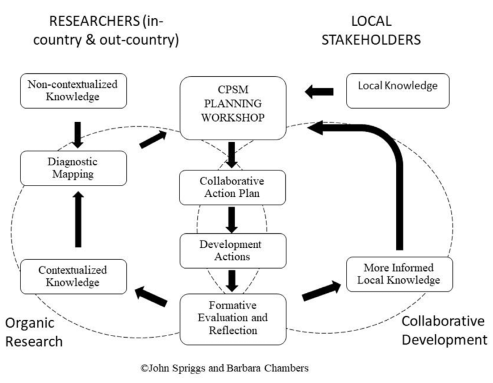 Background
The ASLP Social Research project was one of five commissioned through the Agricultural Sector Linkages Program 2 (ASLP-2). This was funded by DFAT and implemented by ACIAR from 2010 to 2015.
The other four projects were established as ASLP-I in 2006 and focused on dairy, citrus and mangoes. By 2010, each of these projects had achieved significant breakthroughs and collaborations at a technical level.
However, reviewers advised that their impact on poor and marginalised groups could be enhanced. To help with this change in emphasis, ASEM/2010/003 was commissioned to apply skills in community development, social research and a focus on collaboration. This complemented the technical skillsets of the other four industry-based projects during ASLP II.
ASEM/2010/003 Social research to foster effective collaboration and strengthen pro-poor value chains
The four existing projects were "industry-based", being focused on particular sectors (mango production/value chain, citrus and dairy), with little or no technical or logistical cross-over. This new project aimed to enhance collaboration across project teams as well as addressing the crucial cross-cutting issues of social engagement and extension. It used participatory action research and case-study approaches in two communities ("places") per "industry".
Objective 1: To engage the poor and marginalized groups through extensive surveys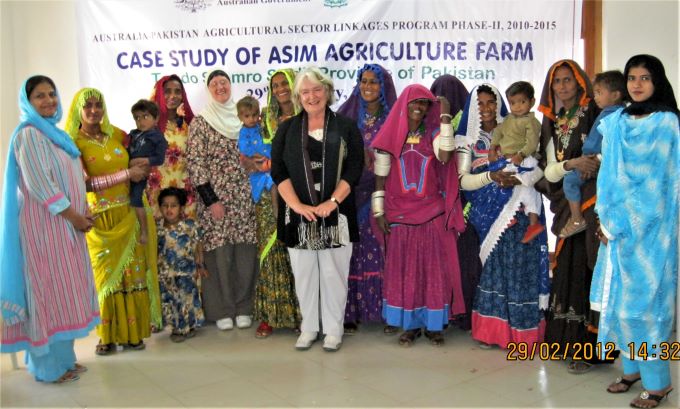 Objective 2: To enhance collaboration across project teams; 
Objective 3: To assess ICT for collaboration and extension
Objective 4: To understand drivers and barriers for community collaboration
Objective 5: Rural youth initiative (added in the 3rd variation to the project)
The final report and final review report describe these approaches in detail as well as the findings, impacts and lessons learned. These, plus a wealth of other outputs (including scientific and practical tools) are attached, after the final review summary below.
The final reviewers noted:
One of the greatest successes of the project has been the way in which women and girl's lives have been transformed through the confidence and skills that they have developed in ASLP-2, enabling them to participate more fully in the family farming business. The impact on men's lives, with women participating more in the decision making, has also been positive.


 
The prioritisation of scientific outputs in the form of the Symposium: Learning outcomes of the social research project in rural Pakistan and peer-reviewed journal papers is to be commended. These outputs are likely to lead to substantial scientific impacts in the way researchers apply PAR methods in familial and patriarchal societies. Likewise, the project has made a substantial contribution to gender research and development.
 

Whilst substantial achievements have been made during this phase, sustaining and stimulating momentum will require a further investment to ensure that the full benefits of the current phase of work are realised
Any project seeking to benefit communities by linking small farmers with value chains should consider:
(a) how collaboration across disciplines and industry sectors could help address the multiple factors affecting farmer and value chain performance;
(b) how "bridging" at village level could achieve economic outcomes that may be impossible if working individually. For example, buying inputs collectively or joint selling of outputs; and
(c ) how to source and apply the social science skills needed to answer these questions while maintaining the technical focus to solve critical production issues
ASLP-1 & 2 have provided a case study demonstrating that projects do no
t organise themselves into cohesive, transdisciplinary programs. Further, it can be very challenging, if not impossible, for well-established projects to broaden their focus and activities.
However, the compromise of focal villages where demonstrations and training by one or two commodity teams could be accommodated worked well and really promoted on-the-ground collaboration between the projects.
Importantly, the industry-based ASLP projects were exposed to a variety of social science research methods for working with literate and low literacy communities. Further capacity enhancement was through two team members who gained JAF fellowships to undertake their PhDs in social science.
This provided valuable insights for planning and implementing future ACIAR collaborations – between diverse biophysical projects, as well as with social science, economics and policy perspectives.
Some findings were fundamental to future smallholder value chain projects in Pakistan:
"It is recommended that a place-based methodology be used in Pakistan. Differences in clan affiliation, education levels and other village demographics means that specific findings cannot be applied to all rural villages where poverty and illiteracy are evident."