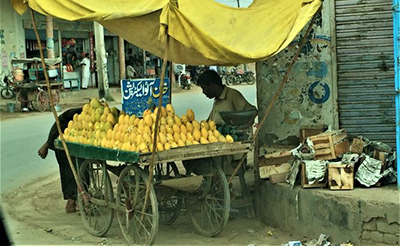 Mangoes, Pakistan's second-largest fruit crop, are grown in both Punjab and Sindh provinces. To address low productivity and low exports, ACIAR invested heavily in mango research from 2006 - 2015 under the ASLP program. This addressed major disease and other production issues as well as on meeting consumer needs. This value chain approach enabled growers to benefit from new, quality-driven channels into both domestic and export markets.  
Background
Pakistan is the world's fifth-largest mango producer, after India, China, Thailand and Indonesia, according to Pakistan's Chambers of Commerce and Industry. Domestic demand is strong and there is also great economic potential for mango exports, which led to a 10 year Australia-Pakistan mango research partnership under ASLP (Agriculture Sector Linkages program). "ASLP Mangoes" successfully addressed disease issues that were crippling the sector in the early 2000's as well as overcoming market access and fruit quality hurdles to meeting consumer needs in export markets.
While the sector is expanding, seasonal conditions contribute to fluctuating production with, for example, a crop of 1.5 million tons of mangoes in 2019, but much less in 2020. Similarly, export performance has grown to a record 115,000 tons worth US$80 million in 2019, although this also fluctuates. In an overall global export market approaching $2billion, Pakistani mangoes have typically received less than half the average world export price.
Legacy research
ASLP Mangoes
The Agricultural Sector Linkages Program (ASLP) ran in two phases from 2006-2015. Alongside research into dairy extension and citrus production, two mango projects investigated production issues and value chains. The Government of Pakistan recognised that local mango varieties are highly prized by consumers at home and overseas. However, existing value chains were failing to capitalise on this demand.
Partnering with Australian expertise through ACIAR was an opportunity to address this problem along the chain from the consumer back to the farmer. One team focused on production issues, especially crop diseases, orchard rejuvenation and healthy nurseries. A complementary project focused on consumers, markets and value chain collaboration as well as biosecurity barriers and postharvest practices. Resources arising from this ten-year program are available below.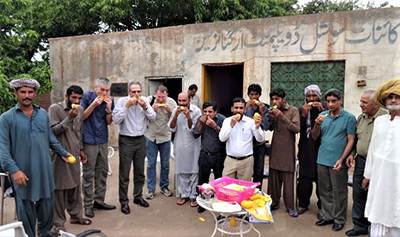 Importantly, the second phase of ASLP was enhanced through the incorporation of a Social Research project. This created a deeper understanding of the situation and needs of smallholder families. One response was facilitating communities to create their own Community Service Centres. These in turn provided training opportunities, including access to computers and internet.
Highlights of ASLP Mangoes included:
Significantly increased yields and improved fruit quality by adopting canopy management and control of pests and diseases, providing higher returns to farmers.
Identifying causes of Mango Sudden Death, leading to development and implementation of management protocols for this disease.
Establishing commercial nurseries that apply best practice nursery management and grow grafted trees for sale in half the time, with significantly lower rates of transplant loss, compared to traditional nurseries.
Developing a comprehensive best practice manual, from harvest to retail.
Successful commercialisation of controlled atmosphere sea freight of mangoes from Pakistan to Europe and Britain and improved domestic marketing strategies involving smallholder growers.
Developing village opportunities to produce and market value-added products that can increase household income by 50%.
Asia-Pacific Mango markets analysis
Pakistan was a partner in this study which aimed to significantly increase the income of smallholder mango farmers in the region.  A collaborative network was established between Pakistan, Australia, Vietnam, The Philippines, Cambodia, Indonesia and Fiji. The network documented regional mango production,trade and position in the Asia–Pacific region. Their report provides an overview of mango production, trade, markets and market dynamics, biosecurity and food processing opportunities and challenges.