1.     Introduction
The Stakeholder Workshop on Policy for Cassava Production and Marketing in Laos was held on 6th March 2019, at NAFRI meeting room. The workshop was attended by a total 55 participants from NAFRI, DOA and other departments of MAF; representatives from other ministries (eg. MOIC), PAFO, DAFO and private sectors from four main cassava production provinces; and development partners.
The main objective of this meeting is to discuss sustainable cassava production and marketing in Laos. This included the results of the previous activities of the ACIAR funded project and how these findings could be incorporated into policies and plans for government and private sector partners in order to scale them to cassava farmers in Laos.
The meeting was chaired by Dr. Bounthong Bouahom, DG of NAFRI. He welcomed participants from other line ministries in the central level, NAFRI, ACIAR, CIAT and the local participants from related offices, representatives from traders and cassava starch factory.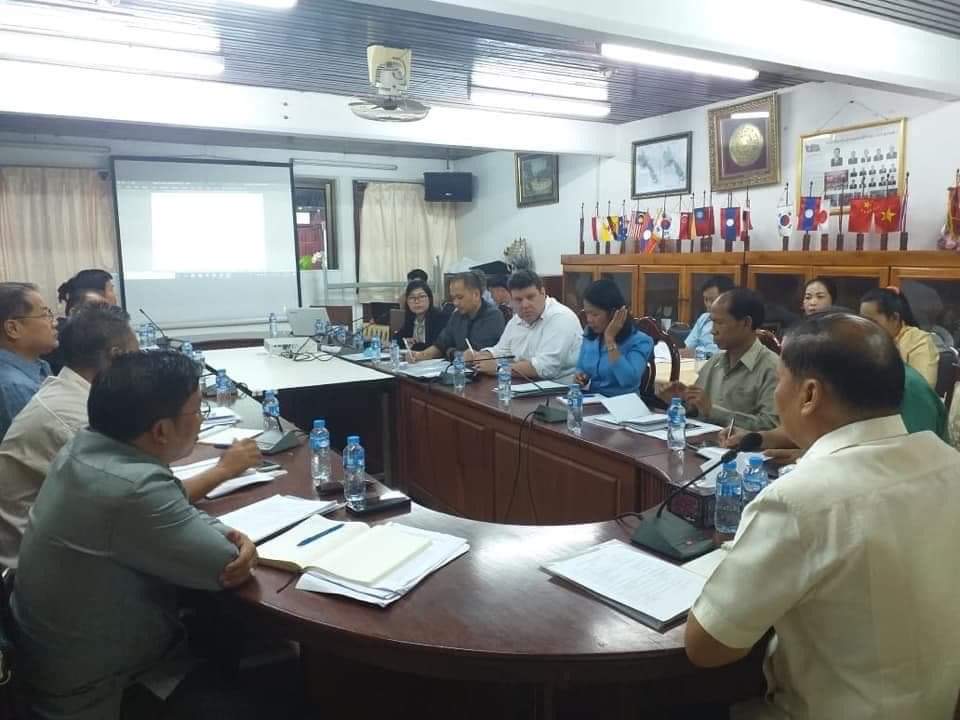 He reminded the participants of the significant of cassava production in Laos, which is one of the priority crops of the Ministry of Agriculture and Forestry as well as the GoL. Cassava plays an important role in supporting the commercialization in several areas in the country and a major source of income Lao farmers. Although there is a high demand for cassava production in the region and the potential of land available for cassava cultivation in our country, there are some challenges and questions on the sustainable cassava commercialization. The main issues are the decrease of yield, soil fertile decline, marketing systems in different areas, conversion of forest land, and diseases and pests. What is the situation of cassava in the future in Laos is the question for now. Therefore, this meeting is one of the important forums that can bring ideas and recommendations for sustainable cassava in Laos.
2.     Presentation
Cassava markets, value chains and livelihoods in Asia: implications for Lao PDR – presented by Dr. Jonathan Newby, Agricultural and Natural Resource Economist, International Center for Tropical Agriculture. View presentation

The increase of cassava production in global and the region.
The regional value chain involves large amounts of cross border trade.
The volume and value of cassava trade in the global trade.
The cassava utilization.
Prices of fresh root and starch at the collection points and factory.
Overview of cassava in Lao PDR – presented by Mr. Chanphasouk Tanthaphone, Director of Economic and Rural Development Research Centre, NAFRI. View Presentation

Cassava production in Lao PDR.
Main problems and challenges of Cassava in Lao PDR.
Possible solutions in technical and policy terms to solve the problems.
The implementation and outcomes of the ACIAR/CIAT Cassava project (ASEM).
The results from trails and demonstrations – presented by Phanthasinh Khanthavong, Researcher, Corn and Cash Crop Research Centre, NAFRI. View Presentation

The main potential and challenge of cassava.

Cassava variety collection.

Cassava variety selection and distribution.

The results of different formulas of fertiliser application.

The cost-benefit analysis of fertiliser application.
The cassava value chains in Borlikhamxay and Xayyabury Province – presented by Phonepaseuth Souvannavong, Researcher, Economic and Rural Development Research Centre, NAFRI. View presentation

The value chains of cassava in Kaenthao and Paklai districts, Xayyabury Province.

The value chains of cassava in Viengthong and Borlikhan districts, Borlikhamxay Province.

Key messages from the meetings in Xayyabuly and Borlikhamxay provinces.
The cassava value chains in Champasak and Salavan Province – presented by Santisouk Insysiengmay, Researcher, Economic and Rural Development Research Centre, NAFRI. View presentation

The value chains of cassava in Pathoumphone and Bachieng districts, Champasak Province.

The value chains of cassava in Lao-Ngarm and Lakhonepheng districts, Salavan Province.

Strengths and challenges of cassava production and marketing in both provinces.

Possible recommendations to develop cassava in those areas.
The result of the cassava's disease survey – presented by Ms. Pinkham Vongphachanh, Plant Disease Unit, Plant Protection Centre, DoA. View presentation

Overview of the cassava's disease survey in Salavan and Champasak Provinces.

The main disease found: Colletotrichum sp., witches broom, bacteria, PHEA.

Characteristic of destroys of each disease and pest.

The creation of the network for monitoring and surveillance of outbreaks between the centre and provinces.

Lesson learn: strengths and weaknesses.
Actions in place, plans and priorities to manage cassava disease in mainland Southeast Asia – presented by Laothao, Researcher, CIAT. View presentation

Current official reported the status of CMD in mainland Southeast Asia.

Diseases and pest in Laos

Safe varieties from IITA (Africa), CTRI (India), and TTDI (Thailand), and protection method in Vietnam.

Regional collaboration and coordination.
Successful models for scaling sustainable cassava production – presented by Dr. Jonathan Newby, Agricultural and Natural Resource Economist, CIAT. View presentation

Three main challenges for cassava production: low adoption to increase productivity, new diseases and the limitation of stakeholders' collaboration.

Experience in multi-location evaluation in Indonesia.

Samples of possible situations of stakeholders' collaboration in Lao PDR.

Future plan in short and long terms (one-year current project left and a new four years project).
3. Summary of open discussion
According to the fact that there is no seaport in Laos, so exporters must transport the cassava products to Thailand, Vietnam and China. This leads to a high cost for transportation. The KPN factory adds more 85 US$ per ton of the Thai price, announced on their website (thaitapiocastarch.org), for transportation cost.
There are many weight and goods checkpoints which are the barriers of commercial extension in the country. Many private sectors need to pay several fees during transportation.
Private sectors in Borlikhamxay also stated that using the 2+3 model of extension is the sustainable way, but investors do not like to support. This is because it needs capital to invest. There was the problem that one private sector supports some farmers by using 2+3, but farmers sell the products to other traders.
It might be good if we can find the exact number of cassava demand in the neighbouring countries in order to avoid the oversupply of the production.
The cassava stems are not enough especially in the southern provinces which leads to the using of planting materials from farmers' land. Some companies cannot import because they are worried about diseases.
The representative from provinces mentioned that there are several forest areas were converted by farmers for cassava cultivation.
Regarding the high increase of cassava demand in Champasak province, there is a threat to sustainable agricultural production because some coffee areas already transferred to cassava land. There is a high competition of traders in the province.
One mention is that the cassava cultivated areas should be followed by the agricultural development strategy which indicates the places for cassava production.
The farmers have limited knowledge on fertilizer application, so there is the need for the trails or demonstration of using and not-using fertilizer in the main cassava production areas to compare the results.
Some people concern about the using of fertilizer which might affect the quality of the production and should be followed the agreement of ASEAN on chemical residues before export.
The significant thing is that it might be good if private sectors, especially exporters or factories, can support farmers through the experiment or demonstration on integrated crops such as cassava + peanut, cassava + bean, or trials of use and non-use fertilizer. The good practices should be expanded to other areas.
Another important thing is that several factory/exporters (foreign investors) export Lao cassava by using other countries' logos. There should be our own Lao cassava brand/logo.
All of the participants agreed on the establishment and strengthening farmers' groups in order to gain more advantage on getting technical and input supports, price information and payment method, and disease and pest information and management.
Private sectors such as traders and factories also need to form as a group in order to strength collaboration among all value chain.
In order to achieve sustainable cassava production, there is the need for specific policy and regulations for cassava starting from zoning, allocation, cultivated registration, establish farmer groups and private sector groups. Without these things, there would be conflict among traders and farmers. This also will lead to the easy implementation of local authorities.
According to the establishing Lao Cassava Association, the first thing we have to focus on is how the association has a positive impact on farmers, traders and exporters. If just only the form of organization which collect only fees from members, it is not sustainable. It is a good idea to start from farmer groups, trader groups, and exporter groups with getting the facilitation and support from local governments in order to collaborate among the value chain.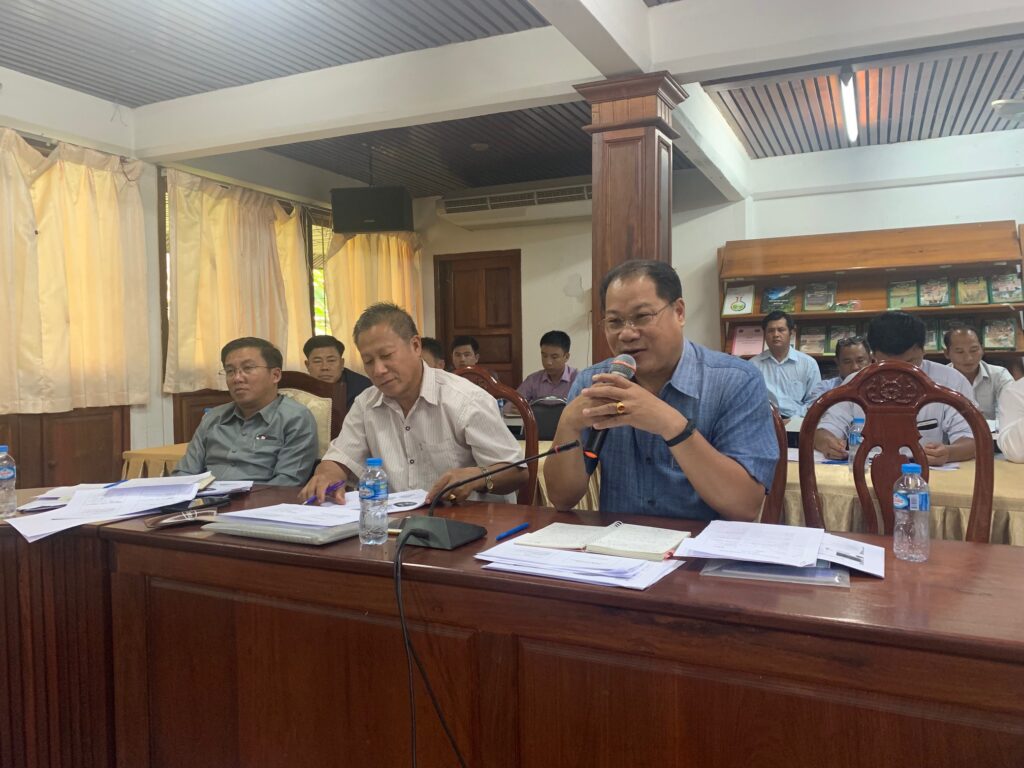 4. Conclusion
According to several significant comments from participants, Mr. Chair concluded as main issues below:
Policy briefs or policy recommendations are needed which showing the situation of current cassava production and marketing in the global, region and Laos, and provide the policy options on the collaboration between farmers, private sectors and government authorities (farmer groups, trader groups, exporter groups, and others). There is also the policy to support local investors in order to reduce the competition with foreign investors. Lao cassava association is also provided for consideration.
There should be the technical collaboration for specific cassava sector. There should be working groups and networking groups which the form of forums or meeting. All cassava stakeholders should be participated such as farmers, private sectors (traders, companies, factories), and related government authorities.
The strengthening implementation of local government authorities is needed. National Protection Areas Management in order to avoid forest invasion, monitoring and managing foreign investors in order to reduce the competition between foreign and local investors and control about the logo or brand of products.
It is very useful if we can continue several activities of the project, and expand the good practices to other areas.
The meeting was closed at 16.00 hrs. on that day.